New accommodation for older people in Throckley has been officially opened by the Lord Mayor of Newcastle to lots of festive cheer – with mince pies, Christmas music and twinkly lights helping to provide a very merry atmosphere.
Dewley House and neighbouring older person's bungalows, which are part of the wider new community of The Pinders, are owned by Leazes Homes, an affordable housing provider with properties across Newcastle, including supported accommodation.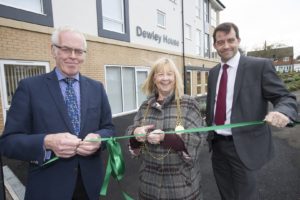 The accommodation, which includes 46 high-specification apartments in a two-storey building, as well as four neighbouring bungalows, was built by Keepmoat Regeneration – part of the ENGIE Group – on the site of the former Throckley Primary School. Both Keepmoat Regeneration and Leazes Homes worked with Newcastle City Council to ensure that the development would support the local authority's needs, as well as contributing towards its aspirations to be an age friendly city.
The apartments and bungalows are available to those over 55 and provide support to older people with specific care needs.  The apartments in particular have a strong focus on being "dementia friendly". Housing management services are provided by Your Homes Newcastle, with care packages available to help residents live comfortably and independently for as long as possible.
The development offers a welcoming, small community with beautiful landscaped gardens and a shared residents' lounge.  Apartments have a fully-fitted kitchen, spacious lounge and bedrooms and a secure door-entry system.
Chair of Leazes Homes, Bill Midgley, said: "This is the fourth development of this nature we have delivered in partnership with Newcastle City Council and it's a model that works very well. There is a well-established community in this area and it's a very welcoming place, so we're not surprised to see that it's already proving popular.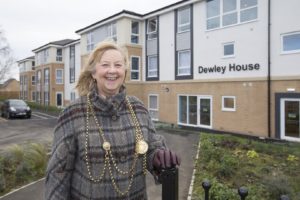 "Extra care has been taken to make Dewley House 'dementia friendly', with visual cues throughout the building, colour-coded floors, milestone markers to trigger memories and additional telecare options such as door alarms and bed pressure pads available. All of these features have been sensitively designed into the development so that it remains homely with a residential feel.
"High quality accommodation for those with additional support needs is extremely important, particularly as we have an ageing population here in Newcastle. The development in Throckley will offer a value for money alternative to the increasing costs associated with residential care, which reduces pressures on council budgets and the purse strings of those requiring support and offers peace of mind that residents are in safe hands."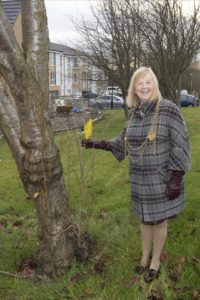 The Lord Mayor of Newcastle, Councillor Linda Wright, who was born in Throckley, said "I was delighted to officially open Dewley House as a tree was planted on the site in honour of my late mother.  My family have lived in the village for five generations and I know she would have been proud to be associated with development that provides support to enable older people to remain part of the community she loved."
Councillor Jane Streather, Cabinet Member for Housing and Public Health said "Dewley House is another example of Newcastle City Council's commitment to working in partnership with developers and registered providers to meet the diverse housing needs of all our residents."
"Developments like this provide affordable and accessible housing options that are not only key to our housing delivery programme but provide older people with the support they need to remain part of their local community."   
Lee Francis, Area Director for Keepmoat Regeneration, said: "Our partnership with the council and Leazes Homes has proved a winning formula for delivering homes of varied tenure across the city.  It was fantastic to see everybody come together and celebrate another milestone for Throckley – which is really turning into a thriving community of all ages."
Anyone interested in finding out more about Dewley House should contact YHN's Housing with Care team on 0191 278 8585 or via yourtimeyourspace@yhn.org.uk