Newbiggin Hall residents of all ages come together through golf – and an understanding of the aging process!
Pupils from Cheviot Primary School and residents of Trevelyan Court, an extra care development managed by Leazes Homes, have been spending an increasing amount of time together following an important science project studied by the children.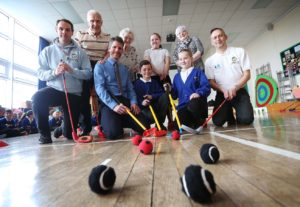 Miss McClure's year 5 class had been studying the aging process when they first met the residents of Trevelyan Court, and they wanted to find out what it was like to get older first hand. So they came to the development armed with questions relating to how everyone felt when they got their first wrinkle and a straw poll on who still has their own teeth!
In turn, the residents discussed things they enjoy doing, with one gentleman, Ken, showing the children his paintings, and inspiring them to do arts and crafts afterwards. The children had a fantastic time and wrote to the residents to thank them for their interesting session, with particular reference to loving the juice and biscuits.
The meeting was so enjoyed by all concerned that it was decided another get together was a must and the idea of a Rookie Golf tournament was born.  Several of the residents travelled to Cheviot Primary school to take on their old friends in a battle of golfing wills. And they emerged victorious (their regular Rookie Golf sessions at Trevelyan Court certainly put them in good stead).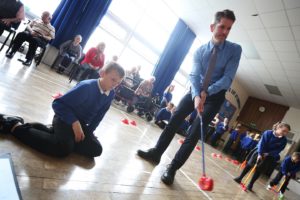 Leazes Homes' Managing Director, who joined the residents and pupils but considered his place better suited to the older of the two groups, said: "It was so much fun to attend the Rookie Golf tournament at Cheviot Primary and everyone really got involved – clearly my team benefitted from their past experience and it was good for me to be able to capitalise on that!
"The officers at our supported accommodation make a really concerted effort to help our residents feel like part of their wider community and it's exactly these sorts of activities that make living in a Leazes Homes property so beneficial. It was fantastic to see everyone come together and enjoy each other's company and I'm already hearing rumours of a rematch, so it sounds like the healthy competition and, most importantly, new found friendships, will be continuing."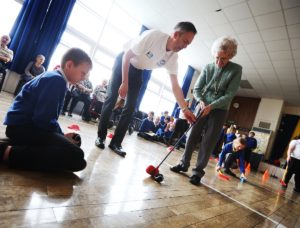 The Trevelyan Court team marked their success by taking the Rookie Golf cup home to show their fellow residents and holding a celebratory tea party. Sheila, a resident at Trevelyan Court, said "They were very considerate and it was a very pleasant atmosphere.  Everyone was out to enjoy themselves it was very good and well organised. Got to do it again!"
The children discussed their enjoyable morning through a question and answer session with their teacher, Miss McClure, which went as follows:
What you think about the Rookie Golf sessions?
They were really fun because you could still join in, even though you were injured. We liked learning about different types of golf clubs. We liked that we have got really good at the golf now. Tom taught us how to be safe with the golf.
We would have loved to find out about even more games that Rookie Golf do. We would have loved to have even more games with Trevelyan court residents, learning more about the olden days.
What did you think of the Rookie Golf event today?
We loved the tournament because everyone was nice to each other. It was fun to meet all the residents. Even though Trevelyan court won, we still had a fun time. We all communicated really well. It was nice to help out with the residents having their game. It was fun playing with the residents because they were supportive.
Why do you like doing the project with older people?
We loved playing with new people we didn't know. We realised that even when you get older, it proves you can still be active. We felt safer working with the residents. It was more challenging to be playing against them, since they had been playing it longer. It was nice to see the residents communicating with each other. We got to find out more about their life also. It was nice to see what they do in day-to-day life.
Rookie Golf is part of Rookie Sports, a social enterprise based in Newcastle that is committed to working with communities to bring people together through fun activities that can be enjoyed by all. Their Chair, Trish Brady, said:
"We are delighted to be working with Leazes Homes and Cheviot Primary School on this intergenerational project. Rookie Sports has enormous benefits for both the schoolchildren and residents of Trevelyan Court, improving physical skills such as coordination and balance, and building confidence, as well as providing a lot of fun.
"Most of all it is the developing bond between the children and the older people that have enormous benefits. The enjoyment and warmth when they are together is palpable."
More information about Rookie Sports is available here