Fruit grown in their own garden will provide the icing on the cake – and the crumble, and a whole host of other sweet treats! – for residents with learning disabilities in Walker.
Station Court, which is a development of flats and bungalows in the Walker area of Newcastle, is owned by Leazes Homes and managed by Your Homes Newcastle. It provides accommodation for 17 people of all ages who have a learning disability, with YHN staff on site Monday to Friday to provide support and lead activities.
Five Station Court residents have been working with Food Nation, a social enterprise based in Newcastle that provides innovative food and nutrition services across the city, on a twelve week course that taught them how to cook from scratch.
They were so inspired by the principles they were taught around eating healthily and using fresh ingredients, that they have decided to apply for funding from Food Nation's Food Grant Scheme (funded by Newcastle Public Health at Newcastle City Council) to buy their own fruit trees. A cherry, plum and apple tree were then purchased with the £250 received, along with blueberry and blackberry bushes, and the residents have been looking forward to seeing the literal fruits of their labour and planning recipes that will use them.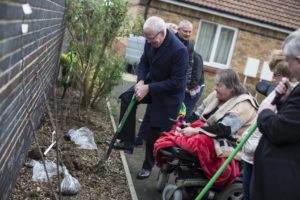 Chair of Leazes Homes, Bill Midgley, helped the residents plant the fruit trees in the gardens surrounding Station Court. He said: "It was great to see the enthusiasm of the residents and to hear about the many things they've learnt about healthy eating from Food Nation. They're really excited about seeing their fruit grow and they have some delicious plans for it, so I hope I get invited back to try a few things!

"These sorts of experiences are exactly what Leazes Homes is all about – we know that providing quality housing doesn't stop with bricks and mortar and this is particularly important for supported housing. The Housing and Wellbeing Officers at Station Court do a fantastic job and they're always organising fun and interesting activities for residents; this is just one example of the really great work they do."

Lisa Anderson, Housing and Wellbeing Officer at Station Court, said: "We have been growing vegetables for a while now and the residents have really enjoyed using them in some group cooking sessions, so we were all keen to increase the fresh ingredients we have to hand. The residents funded their cooking classes with Food Nation themselves and have been extremely keen to continue putting the lessons they've learned there into practice.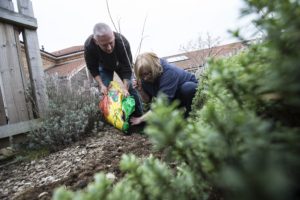 "Everyone loves to get involved and they all take pride in growing and making healthy foods, which is fantastic because it not only promotes wellbeing but also adds to their skills. It's really pleasing for me to see them taking such an interest and we're all very keen to get cracking – we'll be whipping up crumbles and all sorts in no time!"

Nicola Cowell, Community Food Engagement Co-ordinator at Food Nation, said: "This is such a fantastic project, which began with the residents coming to Food Nation for a cooking skills course where they learned new skills and tips on healthier eating. They are not only growing their own food now but are growing both in confidence and as a community too.
"The growing space that they are developing will not only provide delicious home grown fruit and veg, but it will also be an amazing communal space for everyone to enjoy together."

Although gardening is the main project residents can get involved with at Station Court, there is a regular, wider programme of activities which also includes Rookie Golf, weekend communal meals and parties for Valentine's Day, Easter, Halloween, Christmas and resident birthdays.
More information about Food Nation is available here.