New accommodation for older people in Byker has been officially opened to lots of festive cheer – with mince pies, Christmas music and twinkly lights helping to provide a very merry atmosphere.
Lawson House, which is part of the wider new community of The Grove in Byker, is owned by Leazes Homes and is the latest extra care accommodation in Newcastle we've officially launched.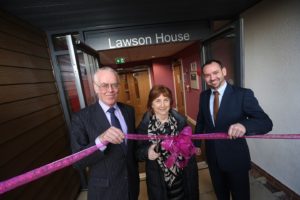 The accommodation, which includes 36 high-specification apartments as well as six two bedroom bungalows, was built by Keepmoat on the former IRDL factory site, which had been derelict for over twenty years. Both Keepmoat and Leazes Homes worked with Newcastle City Council to ensure that the development would support the local authority's needs, as well as contributing towards its aspirations to be an age friendly city.
The apartments and bungalows at The Grove are available to those over 55 and provide support to older people with particular care needs, with housing management provided by Your Homes Newcastle and care packages available to help residents live comfortably and independently for as long as possible.
The wider development also includes family housing, with 80 two and three bedroom properties within the site, and is situated just off the Fossway, opposite the retail park.
Chair of Leazes Homes, Bill Midgley, said: "This is the third extra care scheme we have delivered in partnership with Newcastle City Council and we are extremely pleased to see that it's already proving very popular – there is a well-established community in this area and we've had a lot of demand for these lovely, modern homes.
"Lawson House has been carefully designed to meet a range of care needs and provide a supportive environment, while at the same time encouraging independent living. High quality accommodation for those with additional support needs is extremely important, particularly as we have an ageing population here in Newcastle.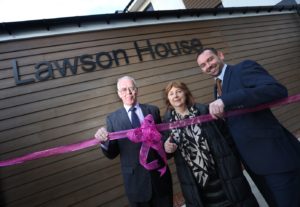 "Lawson House will offer a value for money alternative to the increasing costs associated with residential care, which reduces pressures on council budgets and the purse strings of those requiring support and offers peace of mind that residents are in safe hands.
"We know that this model works well for older people and their families and we're already working with Newcastle City Council and Keepmoat to develop something similar in Dinnington and Throckley, where accommodation will be available in the new year that will help those with dementia to live independently for as long as possible."
Councillor Jane Streather, who is a Leazes Homes trustee, YHN Board Member and Cabinet member for Public Health and Housing at Newcastle City Council said: " Lawson House is a win win all round. It provides high quality accommodation, extra care for those who need it and is located in the Byker community with a cafe which we hope local people will use.
"It has been possible to build because of the great partnership between Newcastle City Council, Leazes Homes and the developer Keepmoat working together to deliver our Older People's Housing Strategy."
Lee Francis, area director for Keepmoat in the North East, said: "The great thing about this project is that it encompasses so much more than just new homes and accommodation.  The homes are carefully catered for specific needs but also encourage social inclusion, with shared amenities.  Throughout the duration of building Lawson House, we also had more than 300 site visits with schools and colleges, which allowed us to encourage more young people into the construction industry, while generating more than £100k in social value.
"Our site manager also used to play on the empty land here as a child and he knows too well the importance of improving infrastructure and investing in local communities.  We're delighted the facility is now open and we look forward to continue working on site to deliver much-needed new homes.
Lawson House has a café that is open to the public and available for residents to use, a communal lounge with a cosy fire and views onto the communal garden (as well as a Christmas tree, currently!) and easy access to local shops and transport routes.
Anyone interested in finding out more about Lawson House should contact YHN's Housing with Care team on 0191 278 8585 or via yourtimeyourspace@yhn.org.uk