The heatwave may have come to an end and normal (rainy) service resumed, but the typical British summer weather didn't dampen the spirits of Leazes Homes' tenants as they celebrated a family fun da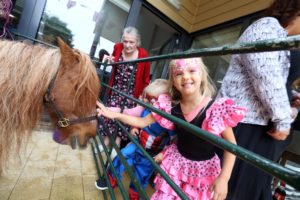 y.
 Leazes Homes now provides properties to over 500 households across the city, with many tenants living in supported accommodation.
All of our customers were invited to a family fun day at Trevelyan Court, our extra care scheme in Newbiggin Hall, and even grey clouds and drizzle couldn't keep scores of them away.
Many residents of Trevelyan Court assembled in their communal lounge and were joined by their friends and family members as well as other Leazes Homes customers of all ages.
Despite the lack of sun and presence of a lot of cloud, there was a fantastic turn-out and a great time was had by all. Not least of all Smurf, a miniat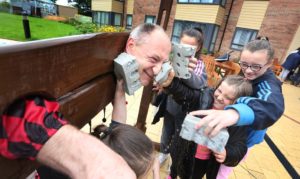 ure Shetland Pony provided by Mini Pony Hire who was petted, patted and brushed by just about all of the children pres
ent and emerged looking quite the dapper gent as a result.
Children and adults alike were also entertained by a host of pets and creepy crawlies from Scales n Tails and could play a number of traditional school sports day games, including an egg and spoon race. A face painter, Julie Charlton, was on hand to help transform guests into their favourite characters and a fierce game of bingo was played by many, many people – with it proving so popular that an encore was called for.
Leazes Homes' go-to court jester, procurement officer David Bell, provided further entertainment and was fully drenched by guests brandishing wet sponges while stuck in stocks provided by Percy Hedley Foundation.
Each of the guests was also treated to a free packed lunch, with food provided by the on-site café at Trevelyan Court, and had the opportunity to mix their own nutritious drink via a smoothie bike with fruit donated by the local Tesco.
Bill Midgley, Chair of Leazes Homes, said: "It was brilliant to see families from across the city come tog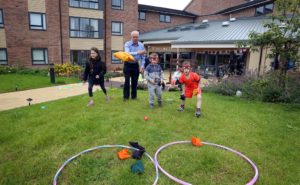 ether to enjoy the event. We were really pleasantly surprised to see almost 100 people there, despite the poor weather, and customers of all ages really got involved.
"It's lovely for myself and my fellow Board members, as well as Leazes Homes staff, to be able to socialise with our customers and to get to know them a little better in a less formal environment. Whenever we run events like this everyone always has a great time and it was especially good to see that it wasn't just the children taking advantage of the activities, but the adults too.
"I want to thank everyone who came along and helped to make the day a huge success, particularly the families who braved the rain to come and see us!"