Leazes Homes supports PIE Project 
Children from two primary schools in Newcastle will be sharing their new-found expertise in enterprise with local head teachers and other school children following the launch of the second PIE (Primary Inspiration through Enterprise) resource in Newcastle.
The pupils, from Walkergate and Tyneview Primary Schools, set up their own shop in December 2013 with the help of the PIE Project – an organisation dedicated to encouraging children to be enterprising from a young age, which is supported by Leazes Homes, Asian Business Connexions and Your Homes Newcastle. This followed a formal application and interview process to appoint children as PIE-oneers, which gave them a flavour of business recruitment practices. After successfully selling Christmas decorations they had made themselves, both schools have continued to use the shop to assist with learning about the business world and everything it entails. An apprentice will soon be recruited by the PIE Project to help with the running of this shop, and they will also be able to help those looking to use the new resource at The Beacon. The new resource, which is named MindCraft Enterprise Support Centre, was officially launched by some of the Pie-oneers with invited guests including Bob Paton, Managing Director of Accenture's Newcastle Delivery Centre and Chief Executive of the North East LEP, Simon Hanson, Development Manager with the Federation of Small Businesses and numerous representatives of the business and education sectors. The MindCraft Enterprise Support Centre has been purposely designed by Glenn Riddle and Ammar Mirza to encourage children to learn about all aspects of enterprise – from planning and creating right through to selling – and is equipped with various pieces of equipment to help them put their learning into practice. The space can be used by other primary schools across Newcastle to complement their curriculum, and sessions will be arranged to provide advice and guidance from guest speakers.  It is conveniently situated in The Beacon, a community and business centre on Westgate Road, alongside a bustling café and many other local shops and schools will also have access to The Beacon's training kitchen should they require it. In addition to offering a second space for local children to use, the organisations behind the PIE Project (Asian Business Connexions, Your Homes Newcastle and Leazes Homes) have been working with national awarding organisation, NCFE, to provide qualifications the children can take in employability and developing enterprise skills. These qualifications help to develop useful skills such as CV writing, team working and enterprise skills in order to prepare them even further for the world of work.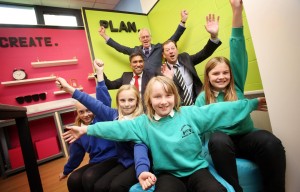 Debi Bailey, Head Teacher at Walkergate Primary School who joined forces with Steve Gittins, the Head Teacher of Tyneview Primary School to work with the PIE Project, said: "Steve and I had been discussing ways of integrating business practices into our lessons for a while but the idea really took off once we engaged with the PIE Project. It's more than just having a guest speaker from a local business or considering some short work experience – we are truly embedding business skills into the curriculum. "We're very keen to develop the aspirations of all of our children and working on the PIE project is having far-reaching affects – not only are our PIE-oneers learning a number of new skills but we're also working with family members to increase their employability and are looking to develop a young apprentice who can help us, while at the same time increasing their own long-term job prospects. "We're looking forward to working with NCFE to develop the qualification aspect of the project and are keen to share our experiences with other schools across the city. I'd encourage as many teachers as possible to take advantage of the new resource at The Beacon; it's a really fantastic space." The current PIE-oneers from Walkergate and Tyneview Primary schools will be assisting with the recruitment of a new intake soon; they'll also continue to provide ongoing peer support to their successors. Any school wishing to learn more about the PIE Project and / or how they can take advantage of the space at The Beacon should contact Ashleigh Jackson on 0191 2424892 Or via
Ashleigh@ammarm.com